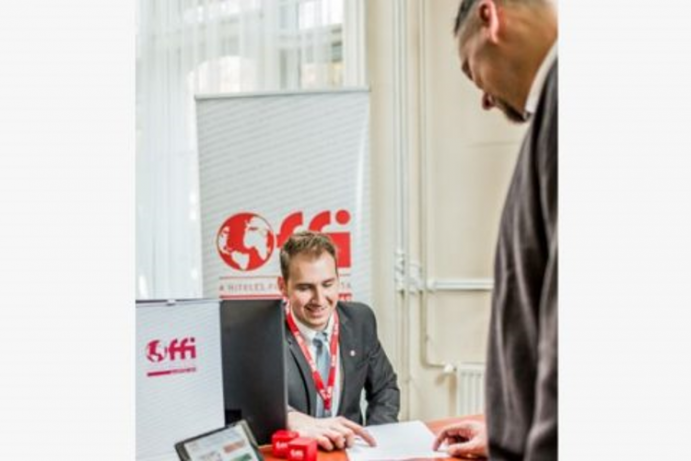 The successful recertification of OFFI Ltd's integrated quality-management system for another 3 years was completed in February 2020. The quality-management audit again confirmed that OFFI had effectively introduced the new elements and guidelines of the ISO 9001 quality-management system introduced in 2015, such as the strengthening of the leader role, the process approach, risk management (risk-based approach), and it had duly integrated, operated and developed the MSZ EN ISO 17100:2015 standard requirements on translation service providers.
In the course of the 2020 audit, the co-workers of Bureau Veritas expressed their recognition with regard to the overall operation of the quality-management system, the commitment to quality, and the activities carried out in the areas that had been defined as development opportunities.
As the MSZ EN ISO 17100:2015 standard has been developed expressly for translation service providers, the successful recertification audit is another sustainable and significant qualitative affirmation in the life of the company. CEO Dr. Németh Gabriella revealed at the final meeting that she was most proud of the fact that there had been real change in the company culture at OFFI in the past years, also attributable to the fairness-based recognition of performance.
The audit report highlighted OFFI Ltd best practices: preparedness and commitment throughout the entire organization, high level supportive environment, fulfilment of the continuous need for development, effort for maximal understanding of client expectations, and the importance of documented knowledge sharing and knowledge transfer.
OFFI Ltd. remains the Hungarian translation office with an integrated ISO certification in the highest number of activity segments of translation service providers, having obtained qualification for five different language mediation related activities since 2018:
making certified translations;
attestation of translations;
issuing certified copies;
making non-certified, commercial type of translations and revisions
Accoding to the 2020 quality policy of OFFI, an important factor in maintaining the attained professional standard is the professional and material appreciation of those involved in the complex process of the service, and the high standard and ethical operation.
The certification body Bureau Veritas was established in 1828 with the aim of "revealing the truth and making it known without fear or prejudice". The integrated certification according to ISO 9001:2015 and ISO 17100:2015 standards also covers the modernized activity of the nationwide client service office network of OFFI.
OFFI Ltd. as a translation bureau with integrated quality management certification stands at the clients' disposal in 2020 as well in the making of certified translations, technical translations, revision or the attestation of existing translations. For more information on certified translation click here, and our most recent free e-publications aimed at transparent knowledge transfer are available here.