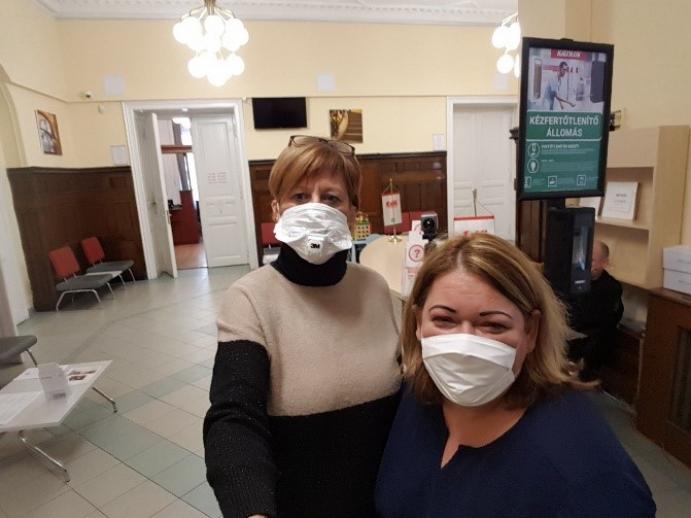 Dear Clients, please be informed that in the current public health situation
WE ARE continuously OPEN.
In view of the situation caused by the pandemic – when the aim is to keep a safe distance and avoid unnecessary contact – we are working on a new certified translation procedure, which would allow the ordering of certified translations without personal appearance. The related negotiations with Hungarian end-user state and official organs are already in progress, given that the documents submitted for certified translation are generally used in some kind of state procedures (legal proceedings or public administrative procedures) by those who are ordering the translations from us.
Although some client service offices outside of Budapest have been temporarily closed due to decrease in the number of clients in certain local regions and in the interest of protecting the health of our colleagues, their clients have been transferred to the communication and administration channels of the nearest open larger office or regional central office (Budapest, Győr, Miskolc, Szeged).
Still, the employees of the temporarily closed offices are working from home, so they are available online and via phone. They can be contacted via the mobile phone numbers provided on the website under https://offi.hu/en/contact. In justified cases, we open a closed country office to serve clients case by case. However, we need to agree on such options via phone in advance, so that we are able to fully meet the conditions required for health protection during the temporary opening (disinfection, document management etc.).
We do everything we can to eliminate the risk of infection, thus we have introduced numerous health protection measures for the unavoidable personal appearance in our open client service offices:
We are disinfecting the client service premises in line with the recommendations of the chief health officer several times during the day, in addition to the usual hygiene rules;
Our workers wear masks and gloves, and they work behind transparent plexiglass surfaces;
The documents received via mail are set aside for certain time before opening, thus reducing the risk of infection;
The executed translations will be mailed to you if you choose this option;
In the course of personal administration, the maximum number of clients in our offices is equal to the number of client service personnel;
In our Budapest office we have set up a thermal camera as preventive measure, in this way we are able to detect fever in sick people and facilitate the immediate elimination of infection risk;
we continuously provide opportunities for appointment via phone or our website.
Currently there is still an option to choose a particular official in charge for our returning clients such as law offices, banks or other organizations that often and repeatedly turn to OFFI, thus being able to maintain contact with the same person who they find reliable in the interest of continuous processes.
Depending on the type of the order we are serving our clients in alternative ways also (such as via e-mail, online client portal, phone) in the cases that do not require personal appearance. Please make use of these opportunities as well.
Prior to commencing the administrative process related to certified translation in any OFFI bureau, we recommend to our clients to obtain information via phone or our website on the things to know about the process on the given area.
The interpreters of the Hungarian Office for Translation and Attestation have excellent references and vast experience. For emergency interpreting services, we can be contacted in the following ways:
e-mail: kozigazgatas

[dot]

tolmacsolas [at] offi

[dot]

hu
phone: +3630 982 6289
fax: 00 361 265 5153
Please follow our website where we provide immediate update on all new information, changes and new solutions. In order to protect your own and our colleagues' health, we kindly request, as recommended by the chief health officer, that you stay home if you experience any symptoms of illness and ask a healthy colleague or family member to do the translation administration process for you.
Opt for the OFFI services that were designed to avoid unnecessary personal contact and to respect the recommendations for social distancing: send us an order online or resort to our certified translation service personally during the changed office hours. Thank you. Looking forward to see you in our offices!