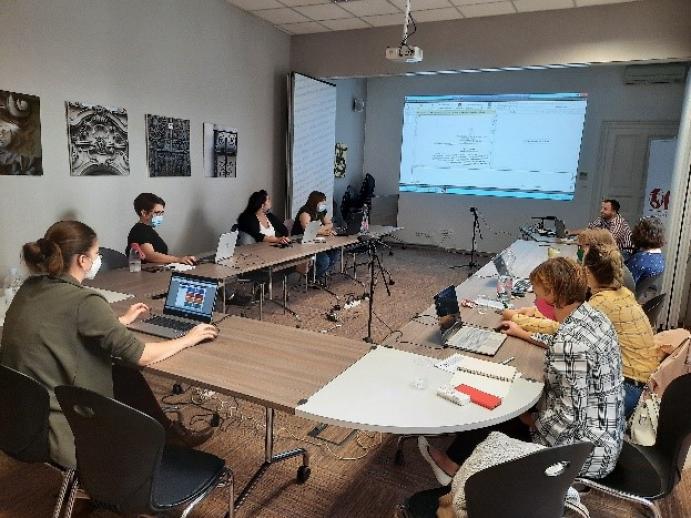 As every other industry, translation industry is also undergoing amazing changes – which has been even more speeded up since the introduction of Computer-Assisted Translation Software (CAT tools). It is generally known that CAT tools are beneficial for translation service providers, for translators/revisers and also for clients, and in every six months, developers come out with upgrades, which are almost always preceded by the assessment of needs so that professionals obtain more user-friendly tools.
Continuous (self)-training, knowledge sharing, knowledge transfer, and the broadening of the knowledge of translators and interpreters play an extremely important role in development. In 2020, innovation efforts – forming the basis of the institution development strategy between 2019 and 2022 – came even more into focus at OFFI, as well.
In February, a translation technology project with an impact on all segments of the company started with the purpose of incorporating more into OFFI's workflow the use of CAT technology, more specifically, SDL Trados translation assisting software.
A series of trainings teaching the methodology and the use of Trados software to project managers and customer service professionals started under the leadership of experienced external trainers.
The training programme was set up on the basis of a thorough preliminary assessment of needs and research. There are colleagues among the participants from all three Hungarian regions of OFFI. Besides the half-day long personal training sessions held every second week, participants can also discuss methodological questions by way of on-line consultations.
In the end of the training series, participants can participate in the SDL Certification programme of the developer, which is based on the use and knowledge of SDL technology leading the CAT software market. The purpose of the professional programme is to deepen the knowledge of SDL translation technology tools, provide practice for their use, establish sustainable good practices, and to certify the obtained expertise.
The training programme was developed by the professionals of the software recognised worldwide, focusing particularly on the development of technological skills needed at a given level. These sessions are entirely practical; participants have the opportunity to practice the functions presented and learned, and to prepare for the corresponding level SDL Certification Exam. In the future, the employees of OFFI may organise and carry out certified and technical translation assignments in the possession of audited knowledge, as certified contributors.
This is in line with the objective set forth also in the medium-term development strategy between 2019 and 2022 of OFFI Ltd, according to which lifelong learning in intensive trainings together with developments will make possible the most effective reaction to global technological challenges in particular in the field of providing public services.